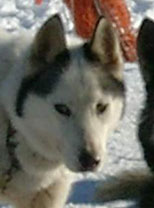 ELSA . Female born on 03/11/92 , piebald.Breeder Jaroslav Iska Czekia) Elsa passed away on January 27th 2004.
Elsa was born in Czekia, she came in France when she was 1, she unfortunatly changed of owners, untill we get her, at the age of 2, and she will stay with us till the end, she is now 12. Elsa is a tremendous bitch, she was an extremely good working dog, very efficient, always at work . She has had three litters. From the first one, with Joyok's Iroquois we kept Demon(now living at the Simon's kennel and leader of the Jeff's team), Marvin, Pongo and Pepite, they were in the team, which finished third in the World Chamionship in Austria, WSA, in 2000. One of them : Marvin is 6 times French Champion in 6-dogs and 8 dogs class. Marvin still races in the team. The second litter with O'Patch, still racing : Roméo and Balto. They, both and their father, raced in Poland in 2003 in European Championship, they finished 8th, a little disapointed. They also won the French Championship this year, 2003 for the fith times consecutivly. The third one, was a repeat mating of the second, but we didn't keep any puppies because the important number of dogs at this time. In 2004, Marvin, Roméo and Balto were in the team which won the french championship in 8 dogs class. Roméo and Balto were also in the team in Aurozzo (Fistc EC) 6 dogs class, finished 4th, and in Cortina (WSA WC) 8 dogs class, finished 12.
Elsa is now retired, she is also a grand'ma (see Georges), .
Elsa passed away on January 27th, we miss you.Thank you Elsa for all the wonderful puppies you gave us, thank you for every thing.
Elsa's Pedigree
Grizzly Nigaluk's
Komaksiut's Ti-Mik
Donjek Ozelot
Kuchin's Darky
Tjep
Komaksiut's Miteq
Alaskan P-Too of Anadyr
Komaksiut's Glinka
Nigaluk's Chatka
Komaksiut's Jeff
Gillis of Kolima
Komaksiut's Glinka
Nigaluk's Arka
Zodiak of Kolima
Kabloonak v.it Noflik Ste
Anai vankarem
Apun Polar cs
Bella coola's Beloc
Zero's Milky Way II
Duska of Tumani
Wrangell Mountain Galena
Klondike's K'Jakan
Wrangell Mountain's Dascha
Akilin ze smecky cs
Chucky Rock
Barren of Kalamalka
Chucky Odessa
Cindy Arcis
Husky v. Zillergut
Black-Blanket of Adirondack